Unparalleled Shallow Water Performance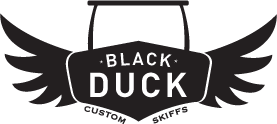 If you're irrationally obsessed with exploring remote marshes and chasing fish with their backs out of the water, then we have something for you.
Today's market offers a lot of great choices to skiff community.  Number of anglers, style, fuel capacity, speed, comfort, rough water capability, durability and shallow water performance – these are just a few of the priorities that skiff people take into consideration when buying a poling skiff.  Most skiffs out there are striving to balance all of these criteria simultaneously, and this means they inevitably compromise in one area or another.
We're doing something very different.
We want to build you a skiff that is focused on two priorities:  shallow-water performance and durability.  It's not that everything else isn't important – it's just that our passion lies in building you a boat that's tough, lightweight, and delivers unparalleled shallow water performance.  If you need a good all-around skiff, like to booze-cruise occasionally, want to comfortably cross open bay in windy conditions and not spill your beer, etc., there are already skiffs out there that do all of those things much better than ours.  Our boats are designed with a certain type of shallow-water fanatic in mind.
Built by Hand for the Texas Coast
The first skiff we brought into production. Easy on the pole and super shallow, this skiff will get you into and out of the shallowest of flats and backlakes without leaving any footprint.
The largest skiff in our fleet with a generous 78-inch beam and 19'8″ length, this skiff gives you maximum payload without sacrificing any shallow water performance.
The smallest skiff in our fleet.  The Killifish offers incredibly shallow draft, extreme ease of poling and is a true microskiff built for the Texas coast.
No Frills Design Built Around Outboard Jet Propulsion
It's a simple concept that's frequently overlooked: the more accessories you put on a skiff, the heavier it becomes. Platforms, consoles, anchoring systems, live wells, coolers, seating… every addition adds incremental weight.  These skiffs are ultra-minimalist to facilitate improved draft and enhance poling and planning efficiency.  Also, the cromis hull and tunnel were designed to maximize outboard jet efficiency and performance – outboard jets are the optimal shallow water propulsion system.
Lightweight
Weight reduction is critical if you want to build a high-performance, shallow-water skiff. We use industry standard techniques like vacuum bagging, resin infusion, and fully cored construction to help us build the lightest, strongest skiff possible. However, we take weight reduction a step further by using awlgrip in place of gelcoat, employing the use of a robust, lightweight stringer and bulkhead system and using 100% directional laminates (no fiberglass mat is used anywhere in the skiff).  
Toughness
The only design criteria that we put on par with shallow water performance is durability.  We don't want to build you a lightweight skiff that only lasts a few years before the cracks start to show up around the transom and bulkhead joints. Toughness isn't just a word, it's actually a technical term used to describe the physical ability of a material to absorb energy without fracturing.  The use of 100% epoxy resin construction adds considerable toughness to our boats.  But epoxy resin is only a part of the equation – the other is fiberglass choice.  We use e-glass and s-glass in epoxy because they are super-tough and resilient, and S-glass offers increased strength and stiffness over conventional e-glass in critical areas.
Experience the performance for yourself.
Request a demo.